Ground Disturbance 2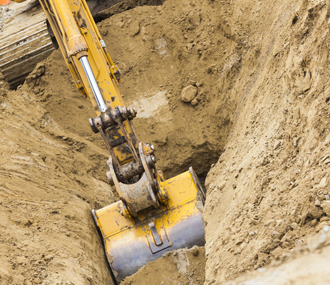 Ground Disturbance is required training for any worker who either disturbs the ground using hands on powered equipment to a depth that mat contact underground facilities or works in or around a trench large enough for people to enter. Although this course was originally intended for supervisors, it has become industry standard training for all workers involved in ground breaking work.  This course is a thorough review of IRP 17, but also covers Part XVII of the Saskatchewan OH&S Regulations which deals with excavation, trenches, and excavated shafts.
Key Elements:
Introduction and Terminology

Define ground disturbance; Offences & penalties; Bill C-45; Common causes of line hits; The digging community' Governing bodies; What is a facility; Ground disturbance terminology

Codes of Practice

Codes of practice/corporate policies

Buried Facilities

Searching for buried facilities; work area/search area; Resources to identify owners of buried facilities

Undertaking a Ground Disturbance

Permits and crossing agreements; Processing the crossing agreement; Permits; Plot Plan; Overhead power lines

Locating and Marking

Marking; Double check; Exposing; Mechanical excavation; Backfilling

Emergency Response Plans

Contacting an underground facility; Emergency response plan to OH&S standards; Commonly under addressed issues; Contacting an underground facility

Safe trenching and excavating

Typical excavation accidents; Type 1 soil; Type 2 soil; Type 3 soil; Type 4 soil; Structural shoring; Falling objects or material; Equipment mishaps; Slips, trips and falls

Course Exam
A variety of teaching strategies are used to facilitate learning including discussion, guides/manuals, PowerPoint, and videos.
Course Length: 6-7 Hours
Pre Requisites: None
Outcomes: Upon successful completion of this course (minimum score of 75%) each participant will receive a certificate that is valid for three years. Course participants will be able to apply the knowledge and skills learned.
Additional Notes:
This course has not be sanctioned by the Alberta Common Ground Alliance (ACGA)