Fall Rescue
Effective June 1, 2022, all credit card payments for both businesses and individuals will be processed the day prior to class. Cancellation must be given 24hrs prior to class time to avoid this charge. No refunds will be issued for late removals. Thank you.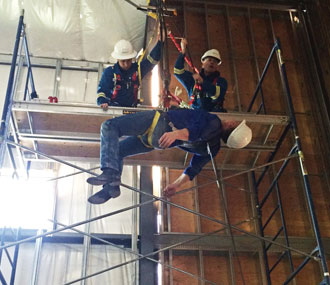 This program will meet or exceed applicable government regulations for the training of employees rescuing at heights. Canadian legislation requires that every fall protection plan include a rescue plan.  This course will teach workers that proper strategies and hazard assessments are necessary to safely and efficiently perform rescues using company specific C.S.A. approved rescue gear.
Key Elements:
Introduction to Fall Rescue

Drill #1

Drill #2 - Individual drill

Drill #3 - Individual drill

Drill #4 - Team Drill

Drill #5 - Team Drill
A variety of teaching strategies are used to facilitate learning including discussion, guides/manuals, PowerPoint, equipment demonstrations, and performance based exercises. Trainees are required to complete practical testing in order to receive course certification.
Course Length: 7-8 Hours
Pre Requisites: Fall Protection End User training (Must be Armour Safety; Energy Safety Canada approved; or as approved by Armour Safety)
Outcomes: Each participant will receive a certificate for this course valid for three years upon successful completion of all practical exercises. Course participants will be able to apply the knowledge and skills learned. 
Additional Notes:
Appropriate clothing is necessary (i.e. jeans, pants, coveralls).

Participants must bring their C.S.A. approved fall protection equipment.

Participants should be physically capable to perform the required exercises to pass the program e.g., employees not on Workers' Compensation or light duty.