Home » Red Cross Standard First Aid/CPR with AED
Red Cross Standard First Aid/CPR with AED
Effective June 1, 2022, all credit card payments for both businesses and individuals will be processed the day prior to class. Cancellation must be given 24hrs prior to class time to avoid this charge. No refunds will be issued for late removals. Thank you.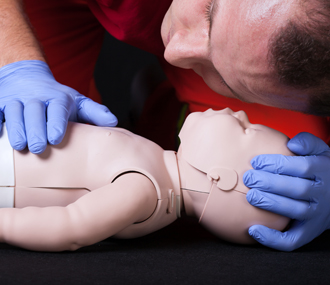 This course is a comprehensive two-day course offering first aid and cardiopulmonary resuscitation (CPR) skills for those who need training due to work requirements or who want more knowledge to respond to emergencies at home. It includes the latest first aid and CPR guidelines and meets Saskatchewan OH&S regulations for Standard First Aid and CPR.
Key Elements:
The Red Cross
Preparing to respond
The emergency medical services system
Check, call, care
Airway emergencies
Breathing and circulation emergencies
Respiratory and cardiac arrest (including CPR A, C, or HCP)
Wound care
Head and spine injuries
Bone, muscle, and joint injuries
Sudden medical emergencies
Environmental emergencies
Poisons
A variety of teaching strategies are used to facilitate learning including discussion, guides/manuals, PowerPoint, and videos. Additionally, hands-on components are supported by a variety of training materials, based on course requirements, such as: mannequins for practicing CPR, AED trainers, bandages, splinting materials, barrier devices, first aid kits, auto-injector trainers, inhalers etc.  At the conclusion of each course participants will be able to apply the knowledge and skills learned.
Course Length: 18 Hours
Pre Requisites: None
Outcomes: Upon successful completion of this course (minimum score of 75%, along with 100% attendance and skills demonstration) each participant will receive a certificate that is valid for three years. Certification in Standard First Aid, CPR Level A, C, or HCP, and AED is available
Additional Notes:
Participants should be physically capable to perform the required exercises to pass the program. Please notify the instructor if you have an injury or condition that might require modification of skills demonstration. 
Recertification:  A student can recertify their First Aid/CPR with AED certification in a 6-8 hour course as long as their current certification has not expired.