Asbestos Awareness
Effective June 1, 2022, all credit card payments for both businesses and individuals will be processed the day prior to class. Cancellation must be given 24hrs prior to class time to avoid this charge. No refunds will be issued for late removals. Thank you.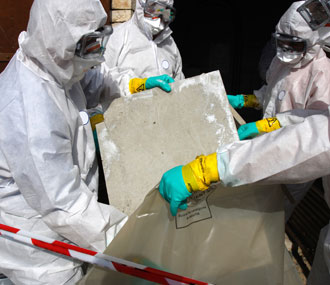 This course is mainly for two groups: employers whose operations may require workers to handle or work in an environment with asbestos or asbestos-containing materials; and workers who work with asbestos removing and cleaning up asbestos waste materials or, very occasionally, installing asbestos. This program will meet or exceed applicable government regulations for the training of employees working with Asbestos.
Key Elements:
Introduction to Asbestos Awareness

Course objectives;  Statistics;     Legislation, industry standards and codes of practice; General program requirements; Employer responsibilities; Employee responsibilities; Training requirements; Scope and application; Definitions; Permissible exposure limits

General Information About Asbestos

What is asbestos?; Where can asbestos be found

Exposure & Effect

Concepts of toxicology; When is asbestos dangerous?; Health effects of asbestos exposure; Determining factors in disease

Avoid & Protect

How to avoid asbestos exposure; Housekeeping; Tips for using contractors; A successful asbestos program; Work at working safely

Handle

How to handle asbestos safely; Personal protective equipment

Course Exam
A variety of teaching strategies are used to facilitate learning including discussion, guides/manuals, PowerPoint, videos and worksheets.  
Course Length: 3-4 Hours
Pre Requisites: None
Outcomes: Upon successful completion of this course (minimum score of 75%) each participant will receive a certificate that is valid for three years. Course participants will be able to apply the knowledge and skills learned.