Home » Elevated Work Platform/Mobile Elevated Work Platform
Elevated Work Platform/Mobile Elevated Work Platform
Effective June 1, 2022, all credit card payments for both businesses and individuals will be processed the day prior to class. Cancellation must be given 24hrs prior to class time to avoid this charge. No refunds will be issued for late removals. Thank you.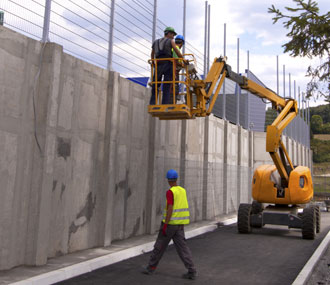 Elevated Work Platforms are commonly used in construction, inspection, and repair services to lift employees to an elevated work position. Proper operation and use of this equipment can make completion of tasks at elevation safer and more efficient. Using elevated work platforms outside of the manufacturer's recommended parameters or exceeding the limit capacities will result in equipment failure that could have fatal results. Knowing and understanding the equipment limitations, operating characteristics and maintenance and inspection requirements of elevated work platforms will significantly reduce the risk of any accidental injury or personal damage associated with this type of equipment.
This training is a combination of classroom instruction and practical experience. The instruction portion covers all pertinent aspects of Table 14.1 of the Saskatchewan OH&S regulations.  As of 2007, Saskatchewan OH&S legislation requires anyone who operates powered mobile equipment to have a minimum of 16 hours training.  
Key Elements:
Types of Elevated Work Platforms/Mobile Elevated Work Platforms

Scissor lift; Telescopic Boom-Type; Articulated Boom-Type; Bucket truck

Terminology

EWP/MEWP components; Component functions

Stability and Capacity

Leverage; Centre of gravity; Motion (Dynamic vs. Static); Unit configuration

Inspections

Inspection classifications; Legislation; Pre-Use inspections;

Safe Operation

Labels; Symbols; Operating practices; Operating Hazards; Fall protection systems

Maintenance and refueling

Danger/poison; PPE; High pressure fluid avoidance; Practice safe maintenance; Handling waste product and chemicals; Precautions

Hazards

Precautions; Mitigating hazards

Theory Exam
Practical Exam
A variety of teaching strategies are used to facilitate learning including discussion, guides/manuals, PowerPoint, and equipment specific practical training.  At the conclusion of each course participants may receive a certificate of completion provided the employer can give credit for past experience.
Course Length: 8 hours. A minimum of 8 hours of previous practical equipment specific experience is required in order to receive certification at the completion of the course.
Pre Requisites: Fall Protection End User training (Must be Armour Safety; Energy Safety Canada approved; or as approved by Armour Safety).
Outcomes: Upon successful completion of the theory and practical components (16 hours classroom and practical training combined) each participant will receive a certificate that is valid for three years. Course participants will be able to apply the knowledge and skills learned.
Additional Notes:
Appropriate clothing is recommended (i.e. jeans, pants, PPE).
Participants should be physically capable to perform the required exercises to pass the program e.g., employees not on Workers' Compensation or light duty.
Must have a total of 16 hours training consisting of theory and practical experience before a certificate can be issued.
The equipment being used needs to have been inspected within the last year.  The equipment manual and the manual of responsibilities has to be readily available for training purposes.