Fall Protection
Effective June 1, 2022, all credit card payments for both businesses and individuals will be processed the day prior to class. Cancellation must be given 24hrs prior to class time to avoid this charge. No refunds will be issued for late removals. Thank you.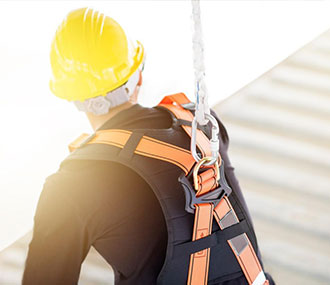 A Fall Protection certificate is required by anyone working at heights as defined in the Saskatchewan OH&S Regulations. This course is designed to help workers understand the principles of fall protection and how they apply to the workplace. The program will meet or exceed applicable government regulations for the training of employees who work at heights.
Key Elements
Introduction to Fall Protection

Define force and free fall; understand force and force values; utilize the three levels of hazard control

Fall Protection Fundamentals

Primary and secondary attachments; Travel restraint gear; work positioning gear; Fall arrest gear; components of a fall arrest system; Vertical and horizontal fall arrest systems; systems other than PFAS

Legislation

Identify legislative requirements; Learn to use fall protection plans; Identify training requirements

Anchorage

Differentiate between certified and non-certified anchorages; Identify anchorage hazards; Discuss the guidelines for anchorage selection

Inspection & Maintenance

To conduct informal inspections; to conduct formal inspections; Identify equipment similarities; Identify common deficiencies; Recognize proper labeling; Proper Care & Storage

Body Harness

Know harness classifications; Identify harness hazards; Know how to select and fit a harness

Connection Devices

Recognize connecting device hazards; Identify compatible components; Ensure secure attachments

Special Solutions

Industry alternatives to conventional fall protection

Rescue

Suspension trauma; Understand the need for timely rescue; Rescue planning

Designing a Fall Protection System

Clearance requirements; how equipment deploys; calculating clearance requirements; designing a fall protection system

Course Exam
In this course a variety of teaching strategies are used to facilitate learning including discussion, guides/manuals, PowerPoint, videos and hands on activities with fall protection equipment such as donning a harness and equipment inspection.
COURSE LENGTH: 7-8 Hours
PRE REQUISITES: None
OUTCOMES: Upon successful completion of this course (minimum score of 75%) each participant will receive a certificate that is valid for three years. Course participants will be able to apply the knowledge and skills learned.
ADDITIONAL NOTES:
Appropriate clothing is recommended (i.e. jeans, pants, closed toe shoes).