Home » Fire Safety & Extinguisher Training
Fire Safety & Extinguisher Training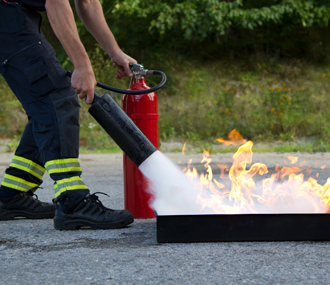 Fires can occur anywhere and anytime. This course is beneficial to anyone who may be required to use a fire extinguisher, either at work or in their home. All businesses are required by Saskatchewan OH&S legislation to have a fire plan. Training workers in the use of extinguishers is one aspect of that plan.  This program will meet or exceed applicable government regulations.
Key Elements:
Workplace Safety

Know your systems, Common hazards and your fire emergency plan; Fire prevention and control; Employee training; Fire emergency response—RACE procedures

Fire Basics

The fire tetrahedron; Fire extinguishing methods

Fire Extinguishers

Conditions of effectiveness; Types of extinguishers; Classes of fire with type of appropriate extinguisher; Identification—extinguisher markings; Selection; Location; Record keeping

Fighting a Fire With A Portable Fire Extinguisher

Fire extinguisher anatomy; Tips for safe extinguisher use; Follow the four step PASS procedure; Fire rules; Firefighting decision making criteria—summary

Course Exam
Practical Exam with a Fire Extinguisher
A variety of teaching strategies are used to facilitate learning including discussion, guides/manuals, PowerPoint, videos, and practical extinguishment of a real fire using real extinguisher equipment.  
Course Length: 3-4 Hours
Pre Requisites: None
Outcomes: Upon successful completion of this course (minimum score of 75% on written test and proper fire extinguishment) each participant will receive a certificate that is valid for three years. Course participants will be able to apply the knowledge and skills learned.
Additional Notes:
Appropriate clothing is recommended (i.e. jeans, pants, closed toe shoes).
Dress appropriately for the weather.
Participants should be physically capable to perform the required exercises to pass the program e.g., employees not on Workers' Compensation or light duty.